Camp Hill Healthcare
Jan Chaffey & Dr Ian Williams
Stat Health Systems (Aust) have been a key partner with our practice during our recent upgrade and expansion. With the construction of a new building to add to our existing premises we needed a modern software solution that would provide an integrated system for all areas of the practice as well as being suitable for all members of the practice team.
Camp Hill Healthcare originated as a traditional general practice and has now evolved into an integrated multi-disciplinary co-ordinated care facility. Our practice team consists of: 15 GPs, 3 clinical nurses, 2 community nurses, 1 diabetes educator, 1 consultant pharmacist, 2 mental health nurses, a practice management team (1 executive officer, 1 practice manager, 1 assistant practice manager) and 9 reception and support staff. In addition, our allied health professionals include: 1 physiotherapist, 1 podiatrist, 2 psychologists and 2 dieticians.
In March 2011, we installed Stat as our clinical and practice management software throughout the practice. The Stat Health team converted 17 years of electronic clinical data from our previous system into the Stat software and although our clinicians have diverse clinical backgrounds, Stat caters well for them all.
The team from Stat Health Systems (Aust) is now an integral part of our Camp Hill team and we greatly value their expertise and meticulous attention to detail as well as their prompt response when support is required.
Tindale Family Practice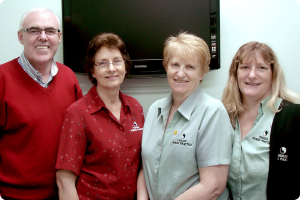 Gary, Pauline, Ronelle + Jeannie
Like most practices, Monday is generally hectic and Tindale Family Practice is no different. The practice comprises 10 doctors, 4 Nurses and reception staff to cater for our "walk in" practice. To add to the normal hectic Monday, we went live with our new software, Stat. After an hour in on live day we all said, "Well is that all there is to converting?" .
A hassle free day and we saw 98% of our average patient flow for a Monday. Now after two months, the implementation team is looking for the next challenge.
Alderley Clinic
Karen, Joanne + Lorraine
We had the Stat application installed as our new clinical and administrative software in March of this year after using our previous software for over 10 years. Live day was handled seamlessly with the support of Kimberley and Carla and a successful data conversion.
Whilst every practice wants software to work in different ways to suit their particular requirements, I have been very impressed with the fact that the Stat Team are always willing to listen to suggestions and they have included many of the changes in future upgrades.
Rockhampton Psychology Services
Ranee Wheat – Director
Rockhampton Psychology Services chose Stat for our clinic management as we were looking for a secure system, accessible via the web so our part time psychologists could access their diaries and enter data while out of the office.
We find it really efficient to be able to do this from wherever we are located. The data management and billing functions have greatly increased our efficiency such that we can analyse referral bases, client types and better track practice profitability. Different levels of security access allow our receptionist to only access and modify demographic client data thus ensuring confidentiality of client sessional information. Stat Health support staff have always been helpful, cheerful and knowledgeable as we adapted to using the system and we now wonder how we were ever able to function without it.
Coronation Place Specialist Centre

Robyn Le Bherz, Rita Found & Fiona Bethune
Coronation Place Specialist Centre agreed to be the first site to install Stat.
We have now used the product for over 2 years and have been pleased with the stability and how easy it is use. The Stat staff are pleasant and helpful on the rare occasion we call for support these days.
Digital Medical Systems have clients who have implemented the Stat Health application Stat. We found Stat Health's staff very professional and thorough, and the entire project ran smoothly. I was impressed with their methodology and commitment during the project.
Stat Health has also proven to be a stable and reliable solution for our clients, and their support staff are very knowledgeable and provide prompt resolution to any problems that arise.